10 Essential Elements of Modern Web Design (and Web Design Trends You Should Know)
9 min read
There are billions of websites on the Internet. Whether you're a solopreneur, a small or medium-sized company, or a multinational corporation, it's no longer enough to have a web presence.
You must have an up-to-date website design to stand out in today's digital world.
But designing or redesigning a website isn't all just about throwing in all the latest bells and whistles. Part of having an effective and modern website is knowing precisely what to include (and what to leave out).
Using effective website elements, your website can attract a significant number of visitors, improve your SEO (search engine optimization) and CRO (conversion rate optimization) efforts, and optimize your revenue streams.
There is nothing like a professional website's clean and modern design to make a strong first impression. Contemporary website design consists of trendy, sophisticated elements that adapt to the needs of today's users.
But besides being clean and attractive, modern website design should provide a great user experience.
A well-designed website can help you in the following ways:
Capture the audience. The average visitor decides within 0.05 seconds whether or not to stay on your website. Therefore, it is essential to make a good first impression and grab their attention from the start of the customer journey.
Guide the reader down the page. Well-designed websites keep their readers scrolling. Because it takes an average of 7 seconds for people to form an impression about your brand, the longer they stay on site, the higher the chance your target audience will convert from a casual observer into a buyer.
Improve functionality. User experience is also influenced by how your website performs. Responsive websites that look and function the same no matter what device a website visitor uses ensure that your business can reach your target customer at every touchpoint and on every device.
Showcase professionalism and trustworthiness. Let's face it, outdated and tacky websites of the past have no place on the Internet. 94 percent of people will not trust an outdated website. For this reason, your design and content must be consistently updated and refined. That said, your website design should reflect the professionalism and reliability of your company. Your website establishes your expertise, knowledge of what you are doing, and ability to communicate your business clearly and confidently.
Here are ten essential core elements that will enhance the appearance and functionality of your modern website.
1. Mobile-friendly and responsive design
With 58.99% of worldwide web traffic coming from mobile devices, creating a website exclusively designed for desktops does not make sense.
More than 85% of adults believe a company's mobile website design features should be at least as good as its desktop version.
As a website owner, you are responsible for ensuring that your user's experience is consistent, regardless of the device. Thus, a mobile-first design is at the core of modern web design.
We advocate for a mobile-first design for a reason. Mobile-first is not the same thing as responsive design.
A responsive website can adjust to screen sizes and resolutions and respond accordingly. If the device is smaller, the elements can be scaled down, or the "picture element" can be used to select an appropriate image, or maybe some media queries can be set up and let them do their work.
Unlike responsive website designs, mobile-friendly designs take into account the size of buttons to prevent the wrong button from being pressed.
A responsive website design will scale down the search results as they were on a desktop, while a mobile-friendly layout might change the column strategy into multi-column results per the screen size.
In summary, responsive design does not care so much about the feelings of the mobile user as it does about the website's functionality.
A mobile-friendly layout design considers the user's experience in terms of how they will see these elements, how they will navigate, etc. Both issues need to be addressed in contemporary website design.
Want a free brand review?
Answer 5 short questions and we will send a custom report with actionable insights and specific actions you can take to build a stronger brand.

We just emailed the info to you.
2. SEO-friendly elements
Getting ranked in Google's and other search engines' indexes is the most effective way to let people know that your site or business exists. You can achieve this by optimizing your website according to search engines' best practices.
Optimizing your website for SEO includes optimizing meta tags, heading tags, and other elements that are part of the website's code. Ensure these elements are tweaked and optimized to reap the full benefits of Google's search engine optimization algorithm.
There are other ways you can incorporate SEO-friendly elements. For example, videos can help you increase organic search traffic by 157%.
3. Compatibility across browsers
The issue of cross-browser compatibility arises when the website does not render correctly (as it should) on different browsers, browser versions, or operating systems.
Cross-browser compatibility issues are caused by the different base engines on which browsers are built.
Additionally, different browsers choose which features they would like to incorporate into their systems and which features they would like to deprecate. A website still using deprecated elements fails to render correctly, resulting in a loss of profits.
To ensure cross-browser compatibility, conduct cross-browser testing. Cross-browser testing can be performed manually or through online systems. 
4. Standardized typography
Typography is a critical component of modern design.
Typography revolves around all the written content on a website. Typography includes fonts, font heights, line spacing, colors, and line lengths. Ultimately, typography is designed to ensure that the written content on your website is easily readable.
It is common for organizations to use a particular font or typography to identify themselves as a brand. The New Yorker, for instance, uses Adobe Caslon to create its recognizable typeset.
To achieve that clean look throughout your small business website, consider adopting a font that will remain intact across pages and even in other online resources you may offer (such as ebooks, guides, or worksheets).
Three primary rules should always be kept in mind while designing a website.
The font should be readable and very clear.
The number of fonts used throughout the website should never exceed two.
Finally, if you are a brand with the capital and time available to invest in brand building, it is always recommended that you use a custom font rather than using the default one.
You should consider your font to be an extension of your brand. People must relate to your brand even if they read promotional content on a third-party website.
Moreover, clean typography must include the following elements:
Web-standard fonts
A sufficient amount of space between lines to facilitate reading
Typefaces in black/gray to match background colors
When it comes to font size, the following ranges are recommended:
Desktop devices should display a font size between 16 to 20 points.
Mobile devices should display a font size of 12 to 16 points.
Tablet devices should display a font size between 15 and 19 points.
5. Hamburger menus
It is common for websites to offer users a wide range of features and options. This may facilitate more straightforward navigation since the user can directly access whatever option they desire from the home page. However, it also occupies a significant amount of screen real estate, particularly on mobile devices.
A hamburger menu can quickly solve this problem.
A hamburger menu is a button that opens a more extensive navigation menu. In this manner, space is saved, and the interface is left clean and uncluttered without compromising navigational convenience for visitors.
Your user's path becomes cleaner and distraction-free when you remove the messy, busy elements from their experience. Users are also more likely to be able to locate the information they require to complete the desired task.
6. Optimizing for speed
Having a slow-loading website design is not only one of the most common mistakes but also detrimental to your SEO and conversion rate optimization campaigns.
Customers always appreciate fast service. The same is true for the speed at which a website loads. Research by Google indicates that 53% of people abandon websites that take more than three seconds to load.
An average 1-second delay in page response can result in a 7% reduction in conversions.
Statistics like these illustrate the importance of speed in modern web design.
Using smart techniques to deliver complete information without delay is an element of modern web design that is interconnected with many other elements on this list.
Make sure your website is hosted on a reliable hosting platform. For example, dedicated or virtual private server hosting will typically provide faster site loading speeds than shared hosting.
All images should be optimized regardless of their size. While PNG images offer higher quality and transparency, they are considerably larger than JPEG images. In most cases, JPEG images provide the ideal balance between speed and quality. GIFs, by contrast, are suitable for animated images but use fewer colors.
Keep your files small and compress them. Many modern compression tools can significantly reduce the size of files without compromising their function.
It is also essential to consider the speed of your mobile site and not just the desktop version of your site. Nowadays, most website visitors access them from their mobile devices, and you want to ensure that they have a positive user experience while doing so. In addition, Google uses landing page speed as a ranking factor for mobile searches and Google Adwords.
7. Effortless navigation
Modern web design is characterized by intuitiveness. Consider your website a significant flaw if it cannot be used by children and elders alike.
You must perform a quick analytical check to ensure that your target audience can intuitively understand how your website is designed and navigated, regardless of whether you choose hamburgers, accordions, drop-downs, or mega menus.
Errors or overlapping navigation will reflect poorly on your brand.
Website navigation refers to how your website is organized in terms of its links and menus. Navigation menus influence the connection between different pages and how easily visitors can find them. Modern websites should simplify how users navigate from point A to point B.
8. White space
The concept of white space is to use less content and to leave a large amount of space on the page. The term white space refers to the space between all the elements of your page – such as copy, sidebars, margins, etc.
A crowded website will cause visitors to feel overwhelmed and unable to focus their attention.
Internet users are constantly bombarded with information, which can lead to intellectual exhaustion. It is essential to utilize a balance of white space and content to create a site that is attractive, readable, and easy to navigate.
There should be some breathing room between things.
You can attract users to critical areas of your site by using white space to separate elements such as images, written content, or calls to action.
9. Interactive elements
Interactive elements are a common feature of modern websites.
These include quizzes, calculators, polls, maps, webinars, and ebooks.
Aside from keeping website visitors focused, it allows you to collect helpful information that will assist you in providing a more personalized experience for them.
Whenever you choose to implement a more extensive lead magnet, such as having them enroll in a webinar or download an eBook, ask for their email address in exchange for sharing that resource.
You will be able to grow your email list while also providing value to your subscribers.
10. Website accessibility
Website accessibility refers to web design that allows all individuals to access and explore a website, regardless of their disability.
Find ways to remove barriers that would make navigating your website difficult for a visitor. This includes individuals who may be visually or hearing impaired.
For example, visually impaired people may not be able to see your images, but they can audibly hear alt text attributes that describe your images.
Include a brief description of each photo on your webpage so that people using e-readers can understand what is displayed.
Similarly, you can add subtitles to video content and resize the font.
Modern web design delivers compelling visuals and engaging content and offers a unified user experience regardless of a person's device.
You can use the elements listed above as a great starting point for designing your stylish, streamlined, and speedy small business website that engages users and helps increase conversions.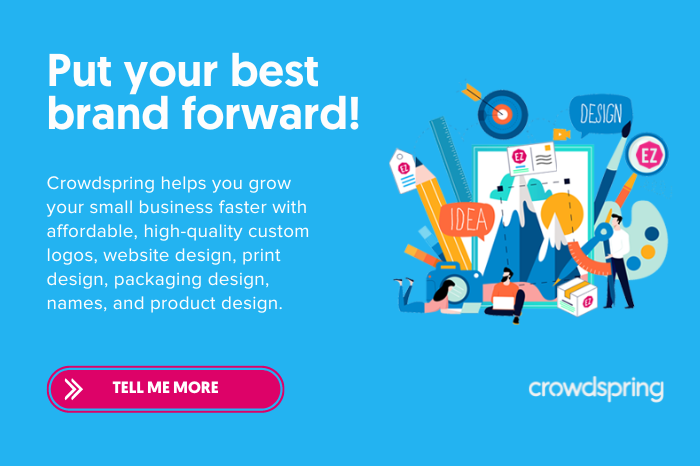 This article was originally published on July 10, 2010, and was completely rewritten on November 10, 2022.