Social media helps locals turn talents into small businesses | Local News Stories
7 min read
One of Stephannie Quijada's hobbies has long been making her own ice cream. Each fall, she said, she'd whip up a batch of her special pumpkin-flavored ice cream, and share it with her friends and family.
But when one of her social media friends saw photos of her ice cream and placed a personal order for one pint, Quijada's hobby quickly turned into a new online business.
"I can't make just one pint. One batch makes around five or six, so I posted the rest of them on my Instagram story and said, 'If anyone wants one, $8 a pint,' and they sold in like five minutes," the 30-year-old Rio Rican said of her first sales. "And it kind of just took off from there."
Quijada said people began contacting her via text messages and through her personal social media accounts to place orders for ice cream. A few weeks later, she created a new Instagram account to manage her new business, Desert Pints.
Quijada, who has already amassed a following of more than 1,600 people on the Instagram account she opened last October, is one of a number of residents and natives of Santa Cruz County who have recently used social media to launch small businesses, and to run them as online operations.
Anais Mendivil has a story similar to Quijada's, though instead of ice cream, the 32-year-old Nogalian began making habanero salsa for her friends and family.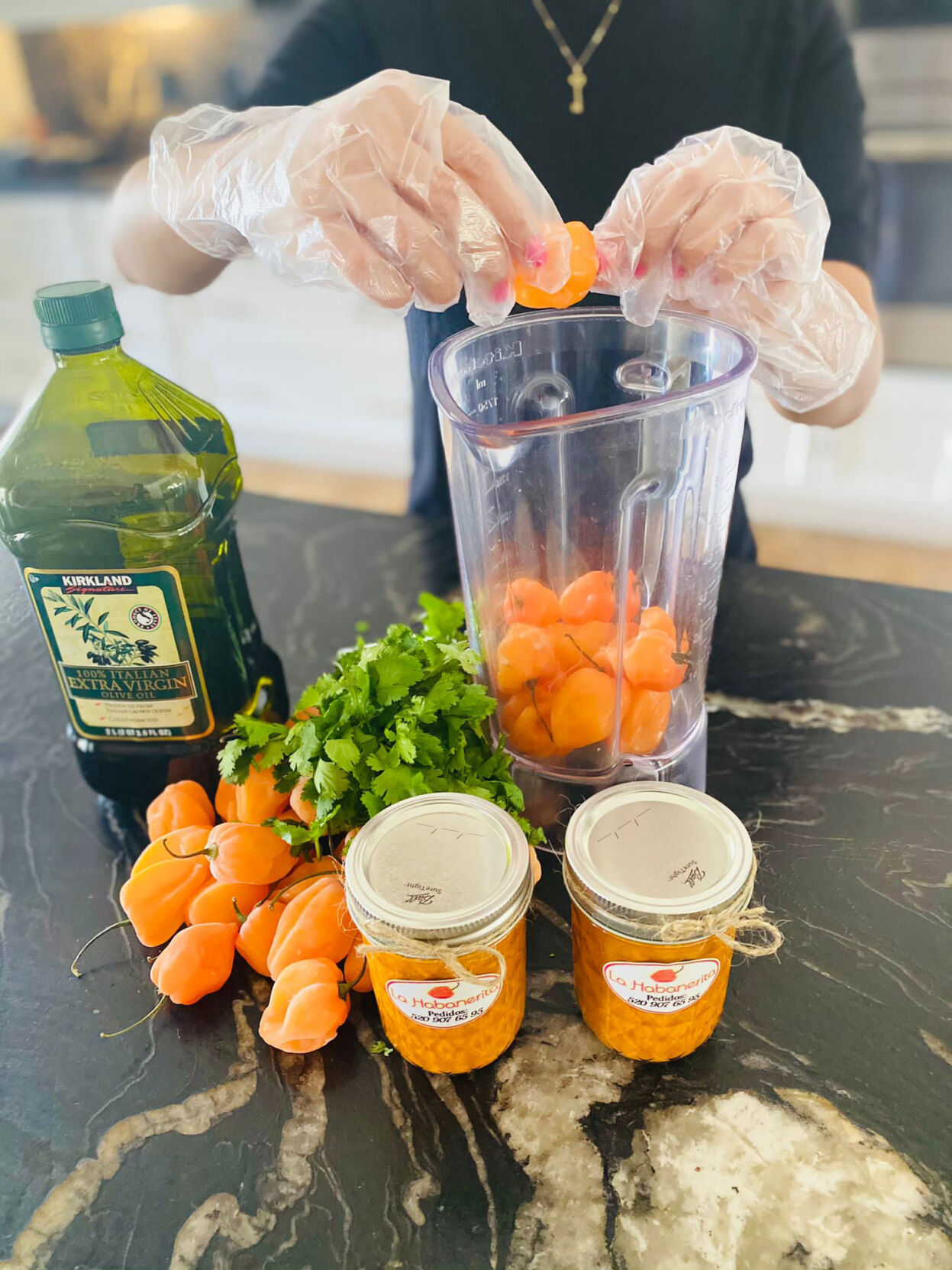 "We eat a lot of spicy food in my house, so I started experimenting with different habanero salsa recipes," Mendivil said, adding that she would share each new batch with anyone who visited her house to see how she might improve the flavor.
At first, she said, she would gift jars of her habanera salsa to her loved ones. But by the time she was able to perfect her recipe – with habanera, olive oil and cilantro as the main ingredients – her friends started offering to pay for her homemade product instead of taking it for free.
She created a logo and formal packaging for her salsa brand, which she now calls La Habanerita, and began promoting her product through her new Instagram business account at the start of 2021. Mendivil said her weekly orders now vary from as few as a half-dozen to as many as 50 jars per week.
As for Nogales-native sisters Alana and Janelle Osorio, their Tucson-based jewelry-making business Pretty Bird Craft started off as a means of staying productive when they went into quarantine at the beginning of the COVID-19 pandemic.
Alana, 25, said she was searching for a creative outlet to help pass the time while she spent most of her days indoors. After finding that there was a big online community for artists who make polymer clay earrings, she shared her new hobby with her 36-year-old sister Janelle.
Like Quijada and Mendivil, Alana said their newfound hobby turned into the Osorio sisters' co-owned business after a couple of friends saw photos of their work and offered to buy the earrings.
Alana said Pretty Bird Craft first began operating on Etsy, an online shopping platform focused on people who sell handmade and vintage items, because she and her sister were going through a phase of "imposter syndrome" – the feeling that you aren't as accomplished as others think you are.
"We aren't really business people… so we were hesitant in making it a thing," she said. "We kind of just wanted to be under the radar and not be so much on Instagram, but then I realized we live in a world where everything's posted through social media so I was like, 'Why not?'"
The Instagram account for Pretty Bird Craft went live last July. As of Monday, the Osorio sisters had gathered a following of more than 900 people on Instagram and more than 200 on Facebook.
One of the biggest advantages to promoting their business mainly through social media, Alana said, is the amount of exposure that they've received for simply having an active online presence.
"People are on their phones whenever they're not doing something else. Their down time is almost always on social media," she said. "So we found that promoting on Instagram is a big help and promoting on Facebook has also brought in a lot of traffic."
Quijada agreed, and added that her advertising efforts through social media have been minimal, thanks to her customers hyping her latest ice cream flavors on their personal social media accounts.
"It was by word of mouth because you know how people post everything on social media now. You can't even eat anything without posting it first," Quijada said with a chuckle. "All my friends just started buying, they'd share it on their page and I started getting tons of messages."
All three accounts, like many other businesses on social media, include highlighted posts of customers' reviews of the products that help give new online visitors a better idea of the items' quality.
Satisfied shoppers posted photos of what the Pretty Bird Craft earrings looked like in person, while other consumers shared images of their empty Desert Pints cartons with comments about how much they enjoyed the ice cream.
On the La Habanerita account, several customers shared photos of how they had paired the spicy salsa with certain dishes like steak, avocado toasts, tacos and seafood.
"Everyone has access to social media now. It's a publicity that has no cost," Mendivil said.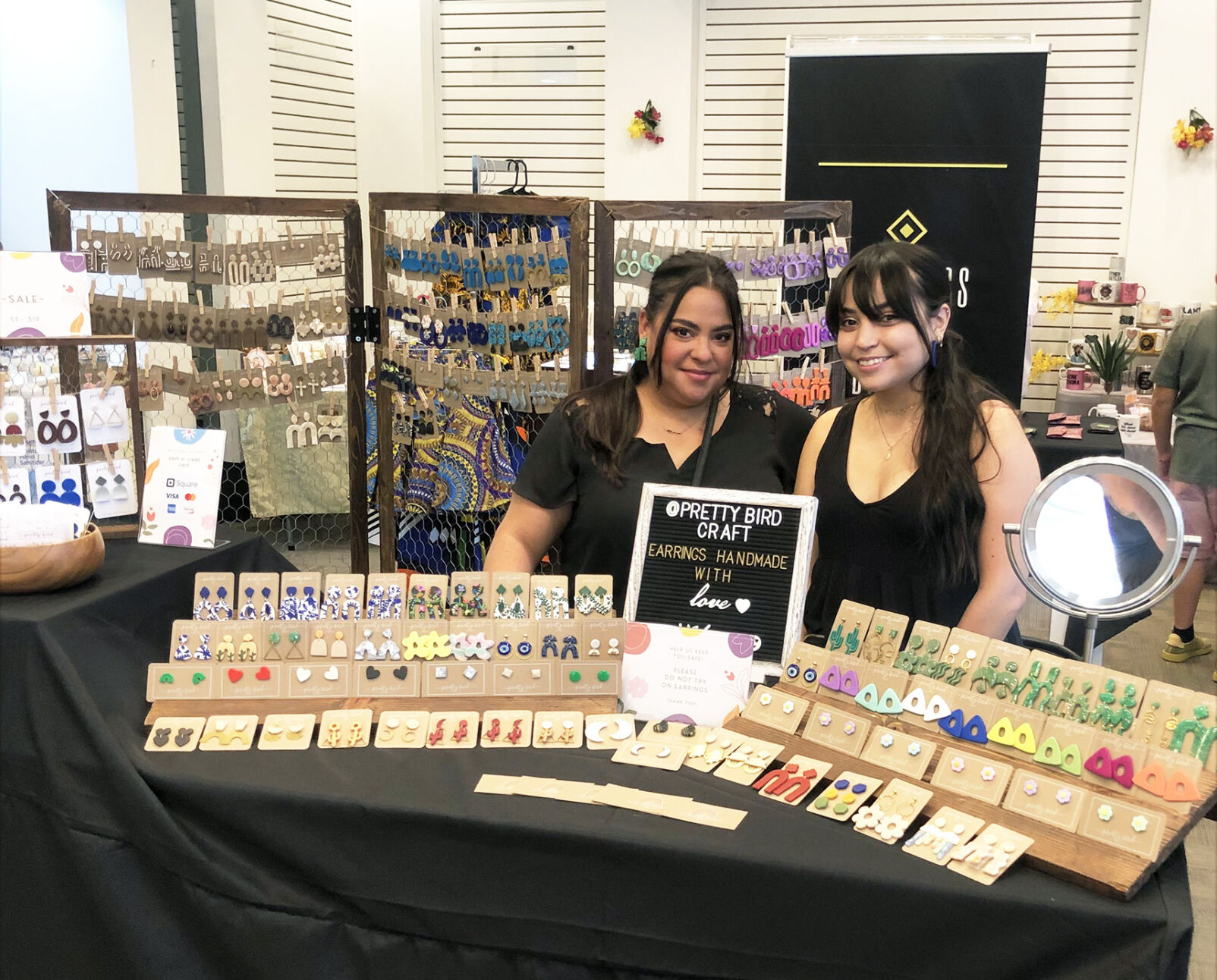 Recognizing the growth of social media, the Nogales-Santa Cruz County Chamber of Commerce said it has also begun assisting local businesses in launching social media accounts and websites with eCommerce features to expand their services beyond brick-and-mortar stores.
"As the world continues to shift to digital platforms… the community may begin to see more restaurants offering online ordering, clothing stores offering same-day pickup orders, and more, which will then allow small businesses to grow in new, innovative ways," spokeswoman Alexis Kramer-Ainza said.
As the online businesses have attracted hundreds of customers in a short time span, it has also become a challenge for the business owners to manage their new operations with other full-time jobs and school.
Quijada, for example, works a full-time job in accounting at a local trucking company. She's also pursuing her education in nursing, while often fulfilling orders for more than 100 pints per week.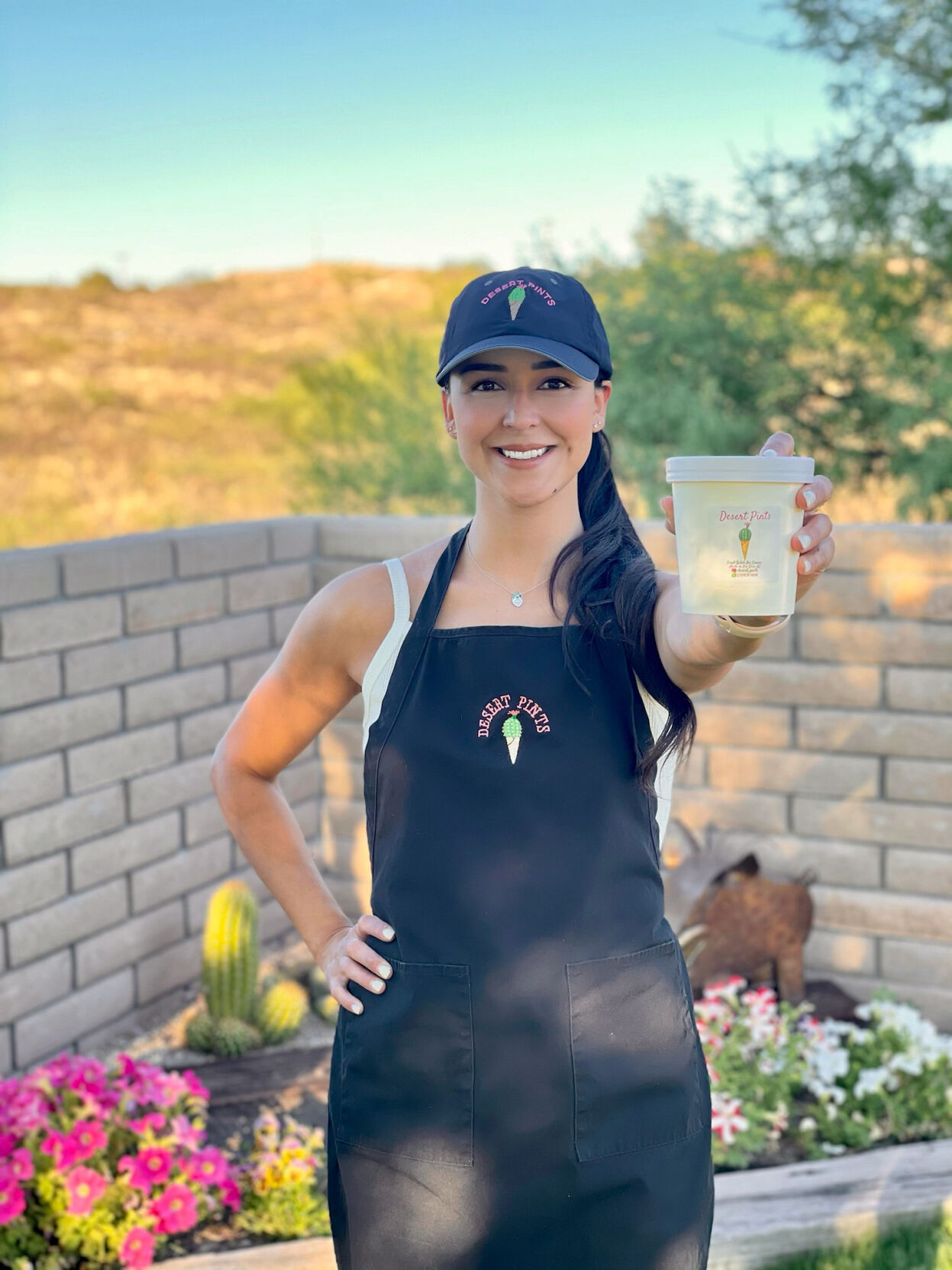 On a typical day, she begins her ice cream operations early in the morning, then works her full-time accounting job from 8:30 a.m. to 5 p.m. After that, she arranges ice cream pick-ups and deliveries, studies for school, then closes her day with more work for Desert Pints.
"I post a weekly flavor on Saturdays. That's when I start taking orders and I usually sell out within 10 minutes to an hour," she said, adding that she sets her cap depending on her schedule for the given week. "I have a waitlist every single week. If I can fit in more time, I'll try to fulfill all those people on my waitlist by the end of the week."
She added that it's a stressful process to handle all three responsibilities, but getting to connect with the community and see others' satisfaction with her product is what keeps her going.
Similarly, Alana Osorio said it's a challenge to stay on top of her full-time studies and internships, while still producing and managing sales for Pretty Bird Craft. Her sister Janelle also has to balance her mother duties, while fulfilling orders and deliveries for their customers.
Between the two Osorio sisters, Alana said, they dedicate about 25 hours per week to Little Bird Craft.
"There's a reason why people do this as a full-time job. It's a lot of work," Alana said.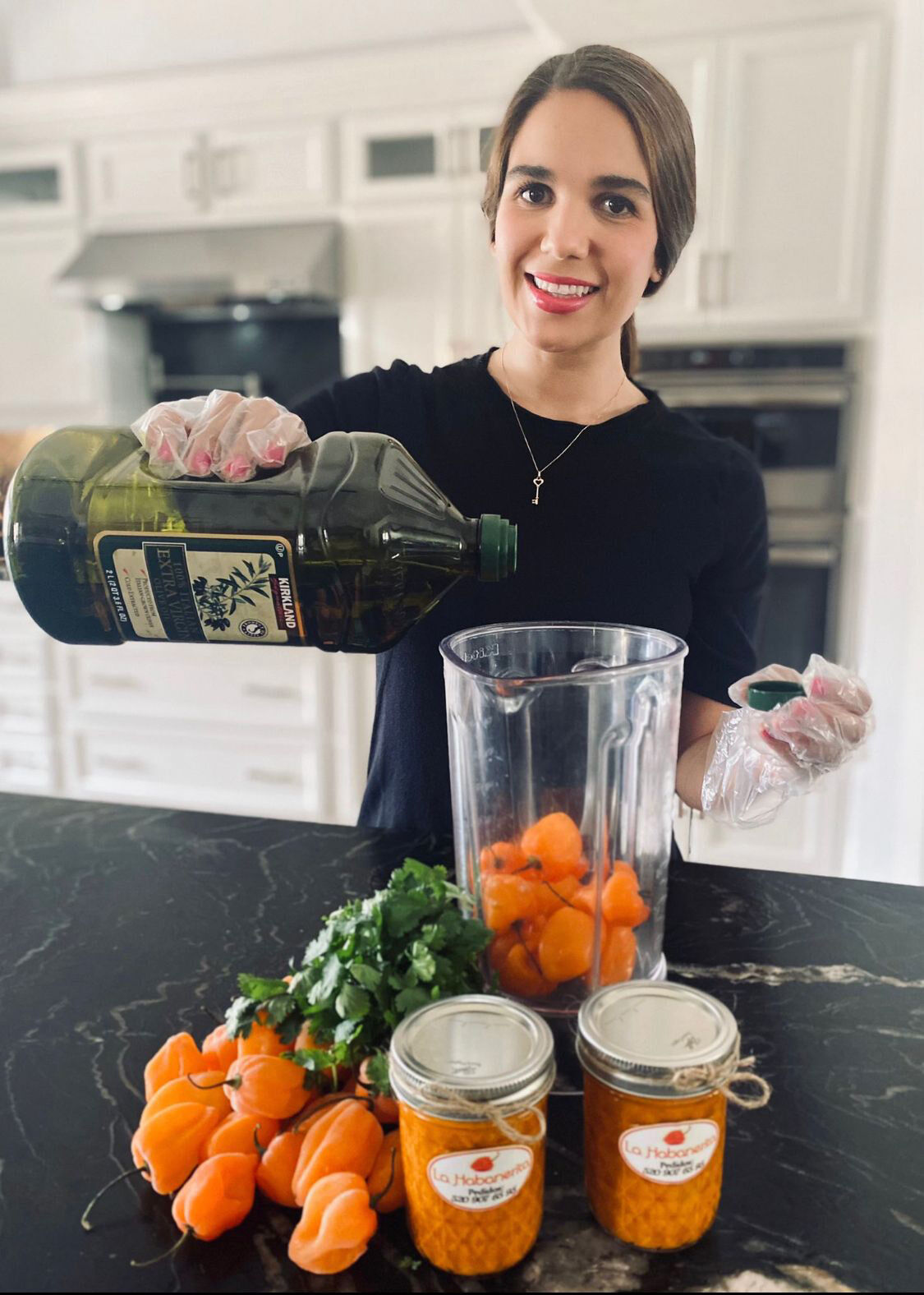 Still, both she and Quijada said they enjoyed the hard work that goes into juggling their different jobs and responsibilities. Ideally, they both said, they'll be able to continue the same kind of work in the future rather than dedicating all of their time to a single activity.
"I love being this busy. I think at this age, of all times, I should take advantage of that," Quijada said. "I really love people telling me how much they look forward to their orders and meeting people's kids and dogs when they pick up."
Mendivil, on the other hand, said she hoped she could expand her salsa business to a full-time operation and have it for sale inside local stores. She's currently working on developing nutrition labels to be able to fulfill that goal.